Vasona County Park (1.3 mi)
Blossom Hill Rd.,
Los Gatos, CA 95032
Tel: 408.356.2729
Santa Clara Valley visitors and residents can enjoy this 151-acre park's wealth of venerable trees, grassy knolls and meandering waterways all year round. This is a popular spot for picnics, hiking, sports and recreation; its wonderful lawns are a host to throwing Frisbee, kite flying, softball, soccer, and volleyball. Vasona Lake is open for non-power boating all year; paddleboats and rowboats can be rented at the dock.
Oak Meadow Park (1.4 mi)
University and Blossom Hill Rd., Los Gatos, CA
Tel: 408.399.5770
Oak Meadow and adjoining Vasona parks in Los Gatos are among Santa Clara Valley's most serene and picturesque spots, and the Billy Jones Wildcat Railroad is a great way to view them both. Billy Jones Wildcat Railroad & Bill Mason Carousel at Oak Meadow Park features a one-third scale locomotive powered by a real, 1905 steam engine. The train takes five passenger cars around duck-filled lakes and wooden bridges, free-running streams, passing willow groves and sweet-smelling eucalyptus. Call 408-395-RIDE for hours of operation.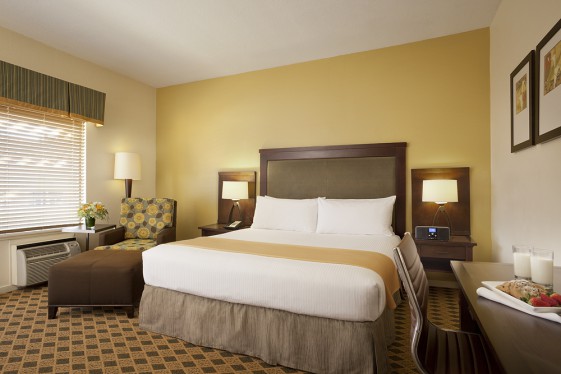 Advance Purchase – Save up to 15%
Lexington Reservoir (5.0 mi)
Alma Bridge Rd. (Off Highway 17), Los Gatos CA 95032
Tel: 408.356.2729
Lexington Reservoir County Park is a scenic 960-acre park and reservoir in the Santa Cruz Mountains above Santa Clara County. The park includes a 475-acre reservoir, which can be traversed in rowboats, sailboards or electric powered boats. Fishing in the Lexington Reservoir is permitted but swimming is banned.
Los Gatos Creek Trail
This 9-mile trail offers aerobic enjoyment to pedestrians, hikers, bicyclists, dog walkers and nature enthusiasts. The trailhead for Los Gatos Mountain Trails starts downtown and branches into the hills south of Los Gatos. You can access the Los Gatos Creek Trail from Vasona County Park and Oak Meadow Park off Blossom Hill Road; from Downtown Los Gatos at Miles Avenue; from Main Street and Forbes Mill; or from Lexington Reservoir Dam.